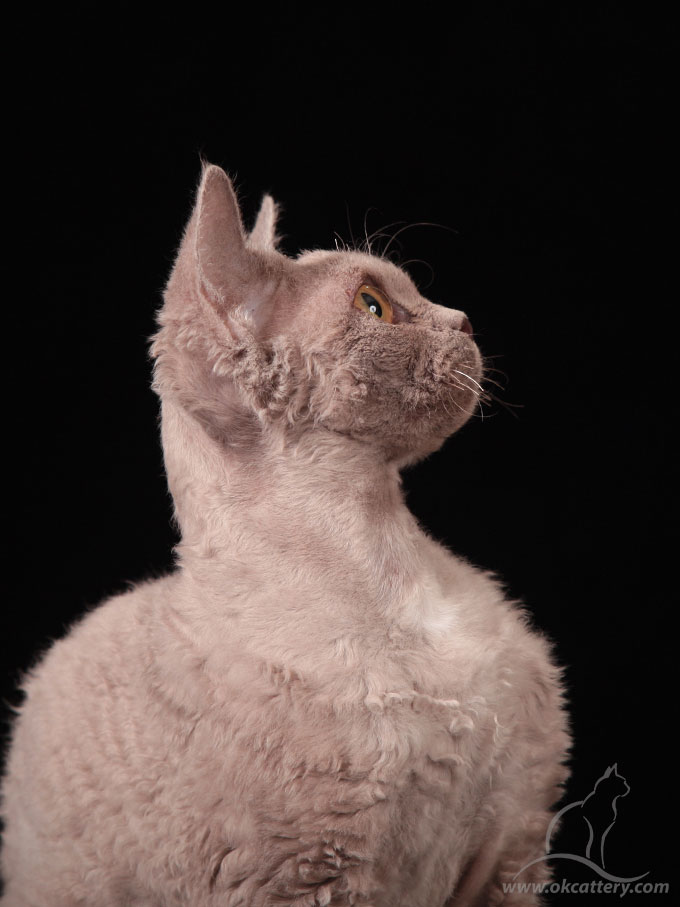 Cat breed Devon Rex
Devon Rex, as the breed of cats got its name in the UK. By a happy coincidence, the first kittens with curly hair were seen in 1960 in a brood of wild cats near an abandoned mine in Devonshire. At first there was the idea that the kittens found were related to Cornish Rex cats, which also have wavy hair. But such an opinion was deemed not to be consistent with the results of experimental pairings. So broods of kittens obtained during such mating had straight hair without curls. This is caused by different mutated genes in the Devon Rex and Cornish Rex cat breeds. The best representatives of this breed also have other pronounced differences. So it should be noted a wide flattened head with large eyes and a short, somewhat upturned nose. The special charm of this breed is imparted by low-set, large, wide ears, which makes them look like fairy-tale elfs.
Breed features Devon Rex
 Species features of the Devon Rex are clearly expressed in appearance and behavior. Representatives of this breed should be attributed to short-haired cats of medium size, so the weight of healthy adult cats is usually located at the mark of 4 kg, the weight of the cats is slightly less and is about 3 - 3.5 kg. Of particular note is the broad chest and well-defined musculature of the animal. The legs look somewhat elongated and strong, the paws are small, rounded in shape, which allows the animals to jump to a considerable height. A great variety is observed in coat colors literally from black to white, including point colors. This breed is not characterized by increased activity and their character can be described as affectionate and discreet. Many breeders note the similarity of their behavior with the dog - just as humane and clever. Wool is soft, pleasant to the touch, spine, short without undercoat does not cause allergic reactions in people.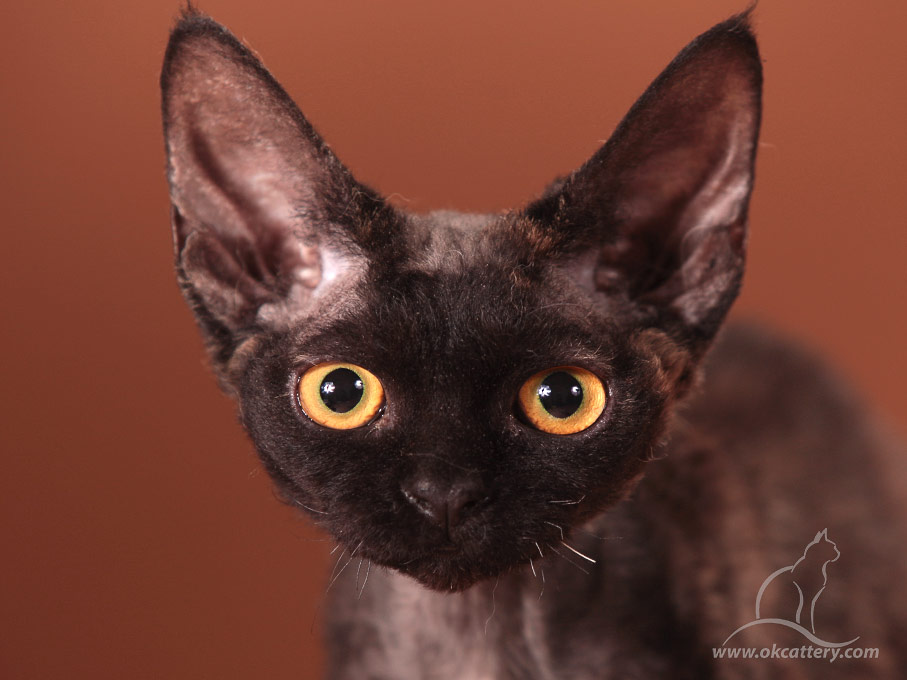 Caring for Devon Rex.
Devon Rex cats are not demanding to care. The coat is short and so not significant that you will not see when its natural change occurs. For the same reason, you don't need brushes and combs - just wipe the cat with a soft cloth dipped in warm water. By their nature, cats of this breed are rather clean, but if you have a desire to arrange your pet a bath day, use cat shampoo for this and complete the water procedures with a warm dry towel. Most often, care for the Devon Rex comes down only cleaning the ears as they become contaminated. To do this, you can use a soft cotton swab dipped in warm water. Devon Rex claws care is also minimal - a slight painless shortening, literally 2 - 3 mm with a banal nail cutter and the acquisition of a place for sharpening claws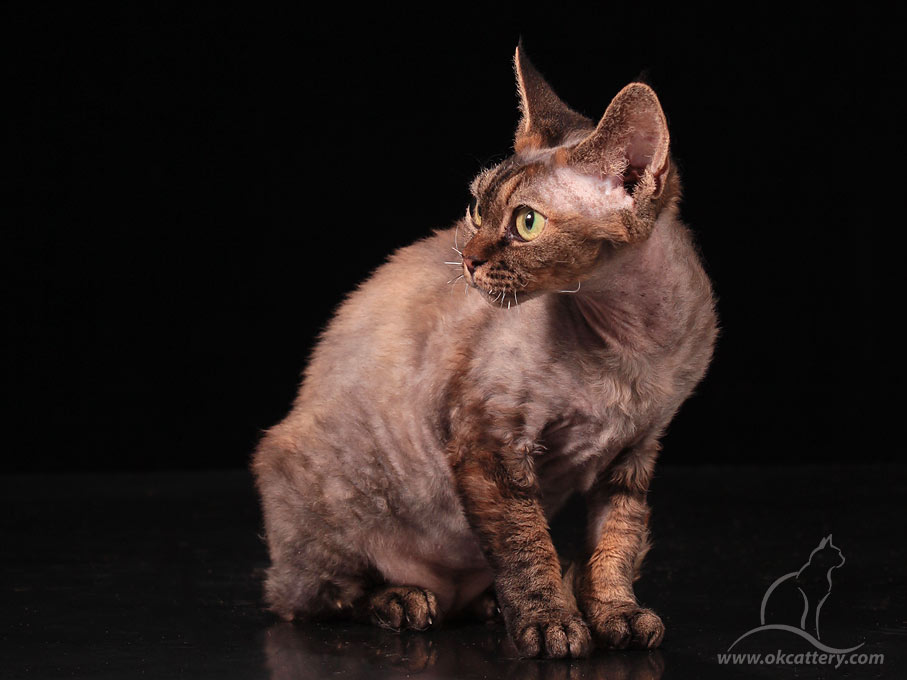 Feeding.
The good appetite of the Devon Rex cats warms the heart of their owners. As in the case of care, everything is simple and rational. It is only necessary to remember that cats are by nature meat eaters, so animal fats and proteins should be the basis of the daily diet. The best cat food is rodents, but I dare to suggest that none of you will be so worried, therefore we will replace them with meat of cattle and poultry. Our animals are happy to accept treats in the form of fresh cottage cheese and goat milk. The daily ration of our cats also includes dry granulated feed "super premium" class. The daily need for a healthy cat varies depending on age and environmental conditions. We believe that 3–4 fold feeding is most preferable for our adult animals. Kittens under the age of 4 months feed 6 to 8 times.